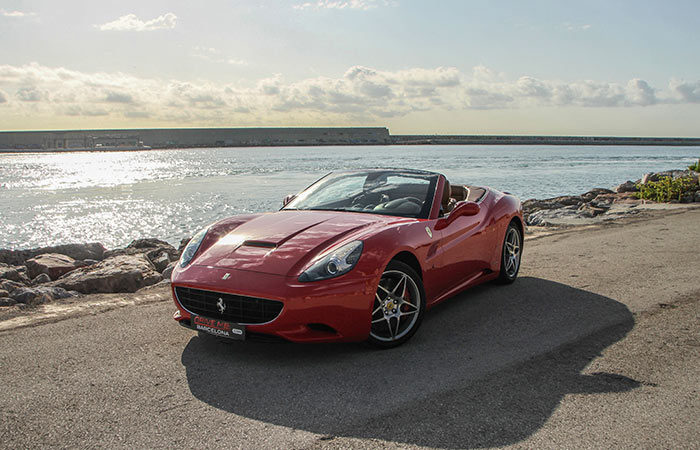 With Drive me Barcelona you can live the life you've always dreamt of even if it's only for a few hours. Drive Me Barcelona is the ultimate service for luxury car rental. Experience the most breathtaking driving experiences in Catalunya whilst driving the most exclusive and latest models of supercars.
I won't even try to tell you all the technical features of this car, after all I'm not a car expert, just a girl who loves beautiful things. As soon as I saw the bright red colour, super sleek exterior and plush biscotti leather interior even my untrained eye could tell this was one of the most beautiful cars in the world. After visiting many museums and cathedrals, it was fab to find something different to do in Barcelona, you can imagine my excitement when we were invited to enjoy this experience.
The car we spent our afternoon in was the Ferrari California Red edition. The roar of the engine as our driver put the pedal to the floor was incredible, as were the looks of people we passed. And people did stare. At the end of the day we were sitting in the back of one of the sexiest cars on the road. See that's the thing about luxury items. Your attitude transcends with them and suddenly you feel slightly more empowered and a lot more sexy.
With Drive me Barcelona you get the opportunity to drive these amazing cars yourself, however because I don't have a licence we obviously left this up to the professionals. But all I can say is OMG, the power, the feel, the prestige of sitting in this car was something I'll never forget. If you love your cars, then this must be on your bucket list.
Beyond the car itself the staff at Drive me Barcelona really went out of their way to make sure we enjoyed the trip so from a customer service perspective it was a 5 star experience.
If you have plans to visit Gaudi's city anytime soon be sure to check out Drive me Barcelona: http://www.drivemebarcelona.com/